How to create a journey map to achieve your goal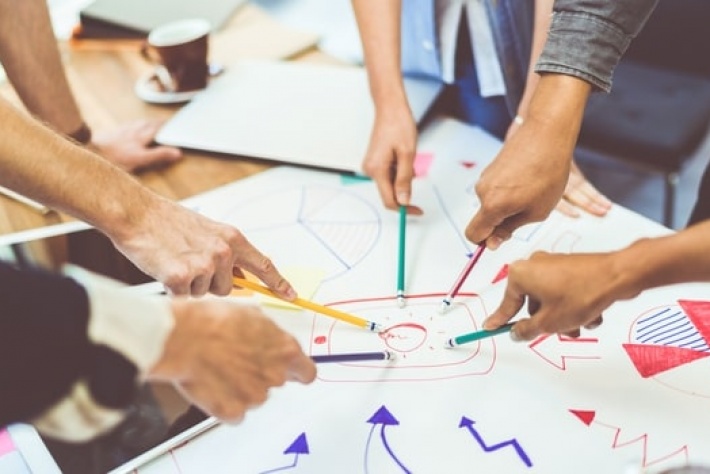 There's a reason why football goals are celebrated, all the hard work and training a sports team put in to score that winning goal – the result, a successful team.
You may have dreams about your ideal business and personal life, but having an end goal to aspire to is what will get you through the journey. This blog covers how to kickstart your thinking about how to set goals and achieve them. Let's get started…
Starting point
Step 1: Where you are right now
Take out your pen and paper and write down some points about how your personal/business life looks right now. Be honest – what's your day-to-day life like at the moment? What keeps you awake at night? Is there anything you like, dislike, or want to improve?
End goal
Step 2: Where you want to be
Now you recognise where you are right now, it's time to think about where you want to be. There are so many areas of your life where you can implement goals, but most fit under personal goals and business goals. It's the parts of your personal or business life that you want to change that you will set goals for.
Here is the difference between personal goals and business goals:
Personal goals – anything to do with your lifestyle, family, social, hobbies etc.
Examples of some personal goals are:
To exercise regularly so you feel healthy
To spend more time with your partner or children
To save money to own the property of your dreams
Business goals – Goals relating to your career/business
Examples of some business goals are:
Business and personal goals do need to align, otherwise, they will create a barrier to progress. So think about the goals you want to work towards and write them down.
Here are some tips when you set goals:
Set a deadline for each goal
Set realistic goals so they are achievable
Make your goals defined and clear
Step 3: Plan the steps to achieve the goal
Now it's time to fill in the middle area - it can be a big jump from where you are now to where you want to be. Set small goals gradually along the way to give you a sense of achievement on the journey to your end goal.
For example, you most likely couldn't go from not running at all to running a marathon. You'd need to start small and build up your endurance, stamina and miles over a realistic amount of time, the same goes for goals.
Put where you are now in relation to your goal at the top of the page, put your end goal at the bottom. Now write every step or small goal you need to complete to reach the end goal in order and give deadlines to hold yourself accountable. You've now got yourself a plan of action to reach your goal.
Step 4: Consistency is key
This part's down to you, once you've set yourself goals and planned how you're going to reach them, you should put the consistent and persistent effort in the direction of your goals for success.
How a business coach or adviser can help you with goals
Talk to your adviser or business coach if you need support in setting and achieving your goals to get from your starting point to the end goal.
The Handpicked Accountants profile for Hallidays can be found here.